Fine Dining, Parties & Corporate Events
The Nature Place Retreat and Conference Center
Allow us to host your business's next corporate gathering, team building event, annual board meeting, or holiday party!  We offer multi-course plated dinners for 15-40 people. 
Menus for your fine dining experience:
3 Course Menu Sample:
Pear and candied pecan salad with apple vinaigrette 
Seared salmon with wild rice and broccolini 
Lemon souffle with raspberry sauce 
4 Course Menu Sample:
Seared lemon, feta and pomegranate salad
Seared Scallops over a shaved fennel salad
Stuffed game hen over roasted garlic gnocchi
Apple roses with vanilla ice cream
5 Course Menu Sample:
Grilled orange, feta and pine nut salad
Creamy five mushroom soup 
Smoked salmon croquettes with cucumber sauce 
Mini beef wellingtons with braised potatoes and asparagus
Pear brulee with vanilla ice cream 
Our Chef has multiple seasonal menus for each
course with a price to fit your budget from $50-$120
Wine and Cocktail Happy Hours separate, service staff must be hired by external contract.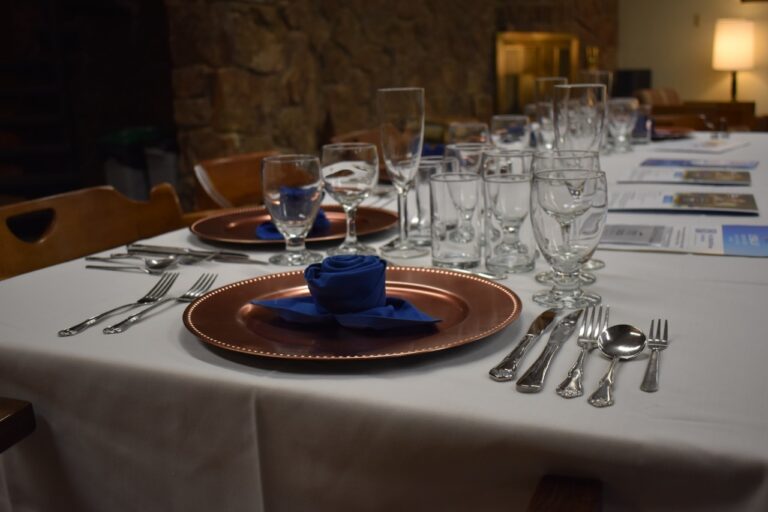 Meet Our Head Chef Chelsea
Chef Chelsea, 30 was born in Brunswick, Georgia, a United States Navy kid, has lived all over the United States and experienced a wide array of cultures and cuisines throughout her life. Her current position as Head Chef & Kitchen Manager of The Nature Place reflects her dedication to nourishing food as well as her eclectic upbringing.
Chelsea moved to Colorado with her family when she was 14 and shot with a junior Olympic team in Colorado Springs for several years as an archer;
At the age of 18, Chelsea set her aim on a culinary education and attended Paragon Culinary School, an elite culinary academy, in Colorado Springs. There she studied under Master Chef, Victor Mathews, PhD, WMC, CBM, MAGL. Chelsea graduated with her Bachelors in Culinary Arts in 2013.
Chelsea is well versed in many different cuisines but her favorite dishes to serve up are Asian and Southern cuisines. She creates her own recipes and has a strong influence on the menu at The Nature Place.
When she is not in the kitchen, Chelsea enjoys hiking, kayaking, fishing and hunting the quintessential Colorado wilderness. Every meal she creates reflects her value of nature, providing not only exceptional taste but sustenance for one's body and mind.