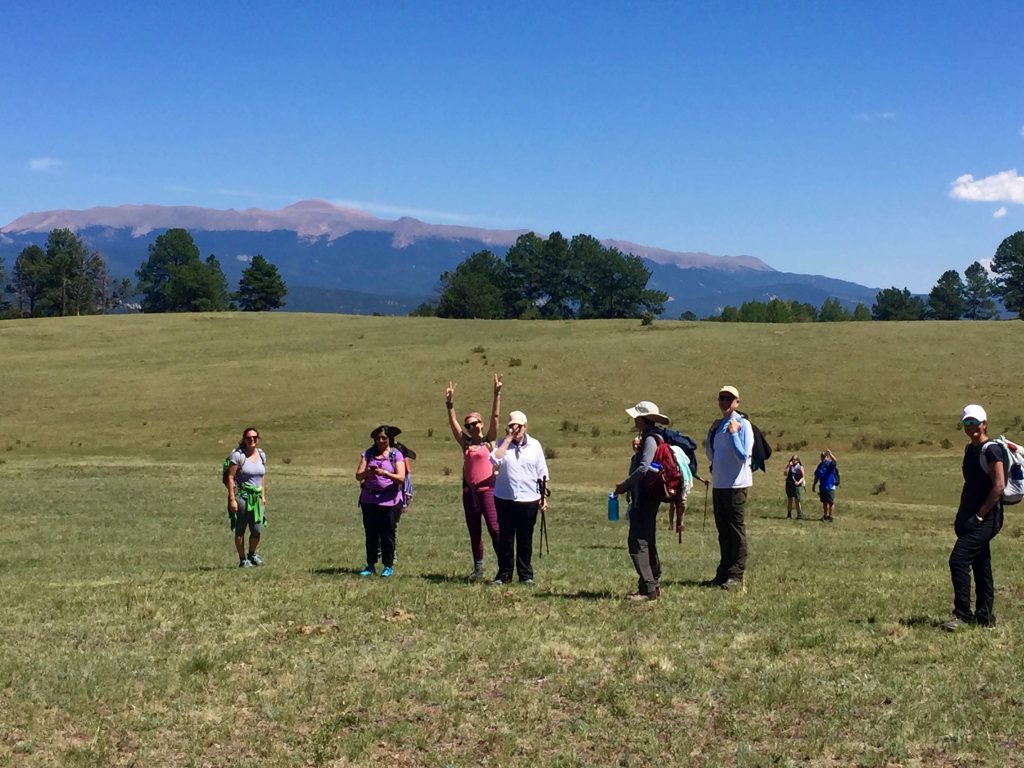 Our Nature Exploration programs are designed for college & university alumni groups, nature center members, and families. Six-day programs will introduce you to all four Life Zones found in Colorado, including the rich diversity of Colorado's plant and animal life, geology, and landforms. Shorter programs can be customized to your liking and are filled with fun and adventure. There are also a variety of optional activities such as fossil digging, dipping your own candle, fishing, special, little-known hikes on the ranch, mountain biking. Evening activities include discussions and slide shows on specific natural history topics that are lead by our residential naturalists. We can take an evening van ride to find the Pikes Peak herd of Elk, mule deer, porcupine, and other wildlife. We also offer inventive games for children, and our large observatory for an astronomy session. Please explore our website for a tentative agenda and a detailed description of some of the day's activities and hikes that we have available for you.
Natural History & Environmental Programs

Meet some of our Naturalists
Bud Wobus (B.A. Washington University; M.A. Harvard; Ph.D., Stanford). Bud is Professor of Geosciences at Williams College in Massachusetts, where he has taught for over 40 years. His specialties are the petrology and geochemistry of igneous rocks (especially granites and explosive volcanics) and the regional geology of Colorado and New Mexico, centered on the Pikes Peak region. He was an adjunct with the U.S. Geological Survey for 16 years doing fieldwork in the Southern Rockies, and is author or co-author of numerous geological maps and reports based on that work. He has continued to study the geology of this region with his students largely through the research programs of the Keck Geology Consortium, which he helped to found in 1986. He has led many trips for Williams College alumni through their Travel-Study program, including 25 week-long field seminars at The Nature Place beginning in 1981, as well as numerous longer trips on 4 continents. He got his start in Geology as a camper at Big Spring in 1954, and has been associated with Sanborn Camps/COEC ever since, currently as a Board member.

Chuck Olmsted: (B.A., Earlham College, M.S., University of Oklahoma, Ph.D., University of Colorado) Chuck is a retired Professor and Coordinator of the Environmental Studies Program at the University of Northern Colorado in Greeley. Chuck's expertise is in the plants of Colorado, and their interaction with the physical environment. He is active with the Colorado Wildlife Federation, and with the Colorado Alliance for Environmental Education, and is currently a Regional Director to the National Wildlife Federation. Chuck has been our plant specialist on staff for over 25 years.
Sam Johnson (B.S. Dominican College, M.S., University of Colorado) Sam has been involved at The Colorado Springs School for over 20 years as a math and science teacher, Dean, and Head of Upper School. He spent five summers teaching field ecology at Oxebow College in Michigan. He is an expert on the moths and butterflies of the Colorado region. Sam is an ecologist who also has a passion for singing, song writing and storytelling. Sam has been our General Ecologist and expert on Lepidoptera for over 7 years.

Rob Jolly wears many hats as Director of The Nature Place, one being a staff naturalist. Rob canoed extensively in Canada and backpacked in various western states while growing up. He has a B.A. in Geology, taught at the acclaimed High Trails Outdoor Education Center, and at Big Spring boys' camp before becoming the Director of The Nature Place. Living on the property year round since 1987 gives him unique perspectives of the local surroundings. He helped create the innovative team and leadership development programs that utilize an understanding of natural, human, and economic systems. Telemark skiing, mountain biking, rock climbing, and sailing provide enjoyment when away from work. He continues to study the geologic history of the Pikes Peak region, and loves to share his knowledge about the natural history of central Colorado and providing astronomy workshops for groups at our observatory.